February 12th, 2007, 10:43 am
Updates, drawing and frosty weather!!
So, there has really been a shower of updates: in addition to the new comic page, I've also added a real deal of drawings to the gallery! After the addition, the site has been playing some tricks on me and my computer, though. If anyone has problems of the same kind, LET ME KNOW!! Then I'll know to change the page source so that it won't be making trouble anymore… Also, the Authors-page is just missing some finishing touches (like the translation and Ginatus' comments). :P

Winter has finally reached Finland! I'm strange in that way that I prefer winter to summer. First of all, summer is too short, there are insects, you can't sleep because of the heat… whereas in winter, it's just the right temperature and you can snowboard, ski (downhill & cross-country) and ice skate! >,< I love it !!!! But due to that stupid greenhouse effect we only got a proper amount of snow about four weeks ago!! Usually it starts snowing before Christmas!!! Now there is about a meter, maybe a bit less, on the ground and in the morning we had a temperature of -25 °C (-13 °F). It's two kilometers to school so when I got off my bike, my hair was frozen onto my scarf!!! xDDDDDDDDDD Everything's possible when you go enough under zero… They have promised -40 °C (-40 °F) for tonight! I sure wouldn't like to be camping then…

Just the last squeeze before I end this. I've just had a change of period and I'm completely bored with the school's boring timetables. So I went and made myself a WY one! It looks a bit… well… full, but if someone likes it, you can take it from here! Help yourselves!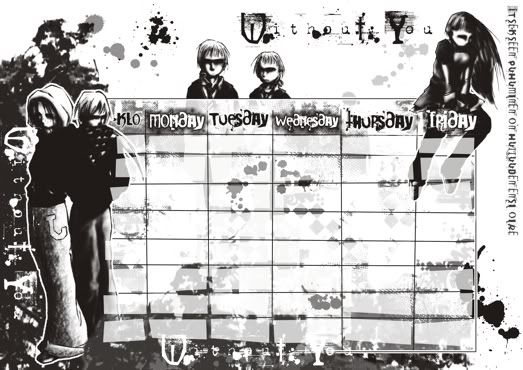 You can download it from here--> http://www.deviantart.com/deviation/48627257/